Careers
Expert careers guidance is a core pillar at Hinckley Academy, allowing our students to raise their aspirations and be supported to explore destinations they had never even considered before. Our most important aim is to support, guide and advise students in order to make them confident, independent and able to make well-informed, realistic careers decisions. Our careers programme ensures students leave us prepared for the world of work, higher education or apprenticeships.
We strive to inspire and motivate our students in all year groups in order to fulfil their potential. The academy adheres to the Careers Strategy and the 8 Gatsby Benchmarks in order to help every student develop high aspirations and consider a broad and ambitious range of careers, this is done whilst reflecting Hinckley Academy's ethos of 'Learners First, It's About Learning, No Barriers'.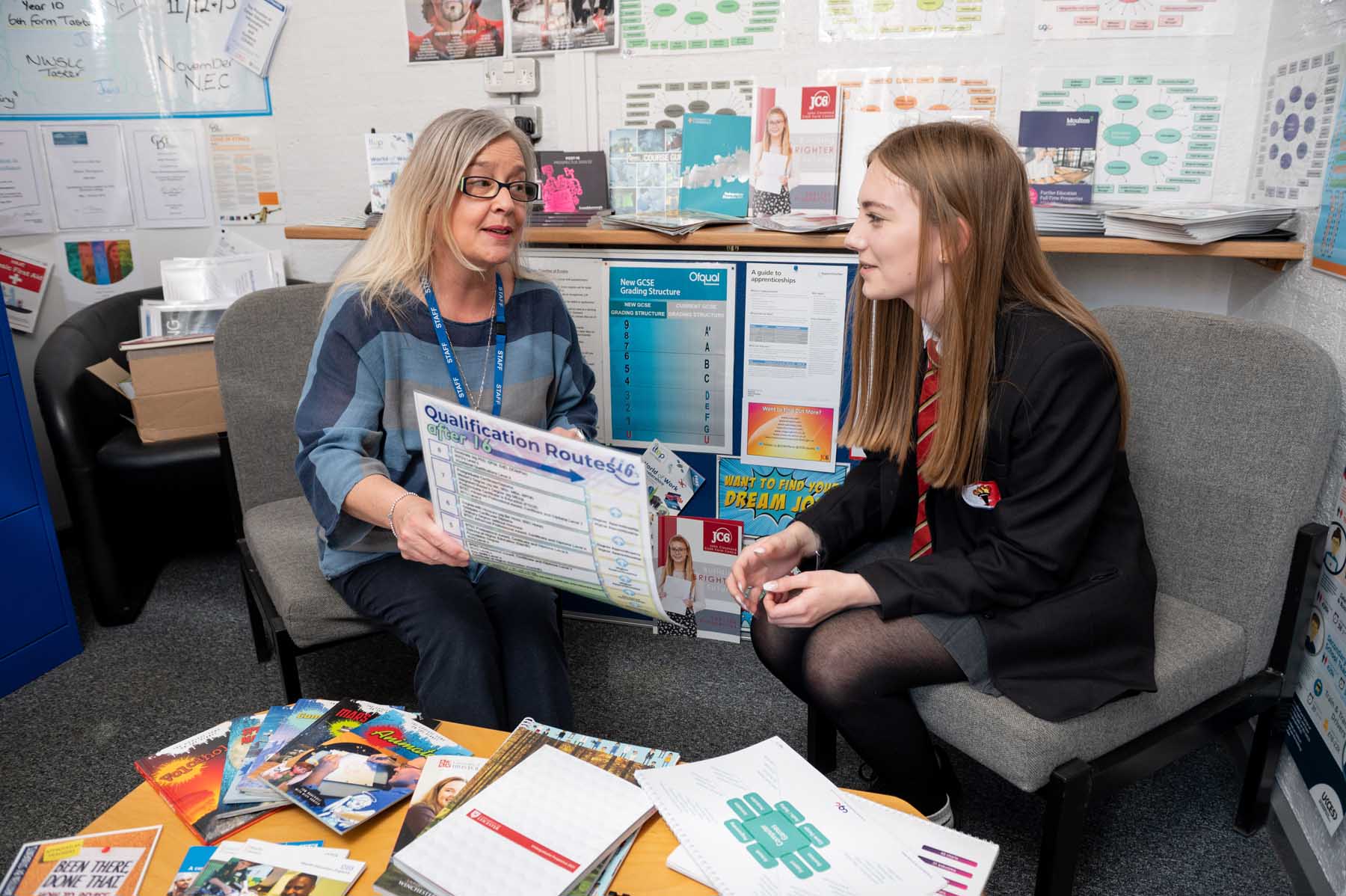 Hinckley Academy provides a safe and secure environment where all students can flourish, where everyone is treated in a fair and consistent manner and all careers related information will be open to all students irrespective of age and sex, to ensure equal opportunities for all.
Click here to explore the KS3 Careers Journey...
Year Group
Topic
Students will learn...
7

Developing skills and aspirations

How to develop student leadership skills

7

Community and careers

How to work collaboratively and communicate confidently
How to set goals
How to plan to achieve targets
What career opportunities are available

8

Discrimination

About equality of opportunity in life and work and
challenging stereotypes in the work place

8

What shall I be?

What different career paths there are
What sort of qualifications do you need to access different careers

9

Choices and pathways

About different career pathways in relation to GCSEs and further qualifications
Setting targets and planning how to reach them

9

Employment rights and responsibilities

About young peoples' employment rights and responsibilities
Employability skills
How to act upon and give constructive feedback

9

Setting goals and for success

How to recognise strengths and areas of development as you begin your GCSEs
How to confidently ask for support when you need it
Set targets for success
Click here to explore the KS4 Careers Journey...
Year Group
Topic
Students will learn...
10
Preparation for work experience

How to prepare for the world of work

10
Global world of work

About the range of employment opportunities there are
About the need to challenge stereotypes about particular pathways
About the information and guidance available for next steps
About local, national and global opportunities for work
About employment sectors and types and changing patterns of employment

10
My CV

How to recognise strengths and areas of development
How to effectively communicate your successes

11
Further education and work

How to use feedback constructively when planning for the future
How to achieve targets
Effective revision techniques and strategies
About options post 16 and pathways
About application processes
How to manage on line presence and maximize employability
How to manage work/life balance

11
Professional conduct in the workplace

How to develop moral values and self-efficacy, including motivation, perseverance and resilience
How to present yourself positively and maintain a healthy self- concept
How to be assertive
Click here to explore the KS5 Careers Journey...
Year Group
Topic
Students will learn...
12

Making informed decisions about your future

What next? The main routes after Y13
Application skills – CVs, applications and interviews
Work experience – tasters, visits, shadowing
Futures Fair alongside Y12 Parents' Evening – Universities and Apprenticeship providers
UCAS Fair trip for Y12
'Assessing your skills' self-review and targets with tutors

13
Making next step plans

Choosing your course
Writing a personal statement
Writing an effective CV
Student loans
Sourcing additional finance
Making final UCAS choices
Supporting ongoing applications and decisions
Positive relationships – in and out of the workplace
For additional information and support please contact our Careers Advisor directly:
Mrs H Thompson, Careers Advisor - hthompson@hajc.leics.sch.uk