The Bridge Takes Year 5 on an 'Ancient Adventure'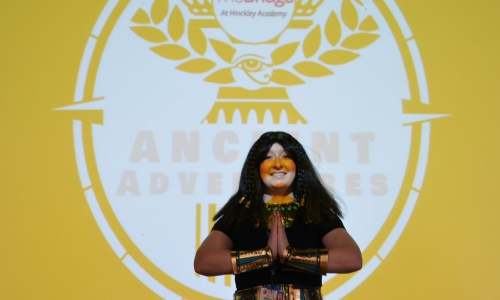 Staff at Hinckley Academy led Year 5 students as they embarked on an Ancient Adventure!
The Bridge team were delighted to welcome students from Hinckley Parks Primary, Westfield Primary and St Mary's Primary to Hinckley Academy this week, for the return of the school's annual Year 5 days. Hinckley Academy Year 5 events have long been praised by local primaries for being enjoyable, exciting, unforgettable and focusing on high quality academic content.
This year, Year 5 students from three local primaries took part in an 'Ancient Adventure', spending the day exploring Ancient Rome, Greece and Egypt and getting a taste for The Bridge Classics curriculum. The event was organised with the safety of students and staff as the top priority, with schools split across two days and activities planned to keep groups separate and movement minimal.
During the day the groups enjoyed learning about ancient civilisations and how they have shaped our world today, creating their own god or goddess in English, testing Archimedes theory in Science, shading scarab beetles in art, sampling an Egyptian banquet, taking part in ancient Olympic events and much more. All students received an Ancient Adventures backpack to take home containing a prospectus, open evening invite, Ancient Adventure event ticket and a passport that they collected civilisation stickers and PRIDE stars in throughout the day. At the end of the event, students from each group with the most PRIDE stars also received a prize and a certificate in recognition of their hard work and embodiment of the Hinckley Academy values.
The events were enjoyed by students and staff alike and The Bridge team were delighted to receive fantastic feedback from primary staff following the events. Staff thanked The Bridge team for organising such an amazing day and said that students left excited to join The Bridge at Hinckley Academy soon.