Remembrance Day 2021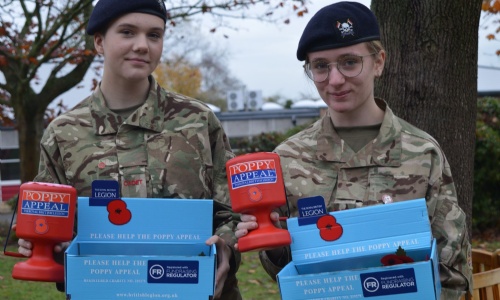 Staff and students joined together in a moment of a silence on November 11th 2021
2021 marks 100 years since Remembrance traditions first began and this year we not only took time to honour those we have sadly lost, but also to think about what the next 100 years of Remembrance could look like and how we can continue to show our respect.
Involving our students in the planning of such poignant events within our school community is so very important and last week Ms Hickman, Head of School, met with student representatives to discuss how they felt we should mark Remembrance Day in 2021. Students shared creative and thoughtful ideas and decided that they would like to hold a whole school silence and allow students to proudly wear their cadet uniforms.
On Thursday 11th November our whole school fell silent at 11am, as staff and students took a moment to honour those that we have lost with a moment of silence. During this moment of reflection we also said thanks to all those who currently serve.
Army cadets Millie, Shannon and Keira said, "wearing our cadet uniform gives us a sense of pride and helps us remember the importance of November 11th. It also helps other students to understand the importance of respect and honour."